As ICL surgery involves surgery inside the eye (intraocular surgery), the potential risks are slightly higher than in laser vision correction on the cornea (the outer front covering of the eye). The surgery is still very safe, and serious complications are rare.
Some of the possible side effects include a rise in eye pressure, inflammation, clouding of the crystalline lens, cornea swelling, over -and- under-correction. Fortunately, serious side effects like infection and retinal detachment are rare.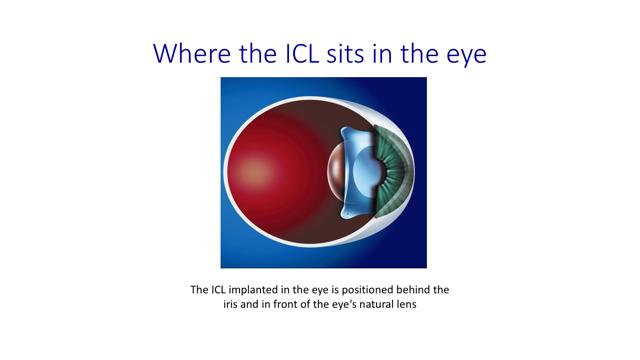 This is what to expect:
ICL surgery is an outpatient procedure.
It is performed either under topical, local or general anesthesia. Your surgeon will make this choice together with you.
The ICL is injected through a small wound into space in front of the natural lens of the eye.
The wound through which it is injected is self-sealing and no stitches (sutures) are required.
In some cases, a few days or weeks prior to the actual ICL surgery, a laser is used to create one or two small holes in the iris (the colored part of the eye). This is to allow proper drainage of fluid in the eye, preventing the eye pressure from increasing after ICL implantation. This procedure, called a laser peripheral iridotomy, is not required in most cases
Here are important points to note:
Visual recovery after the ICL is rapid, but is not instantaneous.
You will find that your eye sight is still foggy immediately after the surgery. The vision usually improves gradually over the next few hours. By the next day, you will be able to see well, but you will be encouraged to rest for a few days before resuming your usual daily activities.
You will be prescribed antibiotic and steroid eyedrops as well as artificial tears to keep the eyes moist. Overall, the surgery and post-surgery recovery, like LASIK, is a pleasant experience for most patients.
Most patients are able to return to work a week later.
Is LASIK, SMILE or the ICL

better for me?

All three procedures give excellent visual outcomes. Each procedure has its inherent advantages.

Dr Cordelia Chan has had many years of experience performing LASIK, SMILE and the ICL, and based on your profile and needs, she will be able to best advise you on which procedure is best.